St. John's has many ways you can get involved. If any of the groups below interest you, please contact the Church Office at 608-291-4311 or info@sjlserve.net for more information or pick up a copy of the Leadership Directory from the Welcome Center, which has contact information for team and committee members.
Worship Volunteer Opportunities 

Did you know that it takes about 60 people to plan, organize, and participate in worship each week?  If you would like to participate in our current Online or Outdoor worship services, please call the church office at 608-291-4311 or send an email to Laura McGoveran.  
Here are some groups you could participate in for Worship:
Altar Guild – Prepares Altar for worship
Worship Assistants – Acolytes, Welcome Center Hosts, Ushers, Greeters, Readers, etc.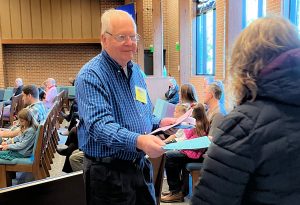 2022-23 Choir and Chimes Schedule
Chime Choir – plays one or two songs on one Sunday each month.  Practice is on Wednesdays from 6:30 – 7:15 and 40 minutes before service begins…

Chancel Choir – leads music for one service each week. Practice is on Wednesdays from 7:30 pm – 8:30 pm and 30 mins before service begins…

2022-23 Choir and Chimes Schedule 
Soulvation Praise Band – leads music for one service each week. Practice is on Thursdays from 7:00 pm – 8:45 pm and 45 mins before service begins…
Special Music – Men's Choir, Women's Choir, Solos, Duets, etc…

Watch Madeline Sing & Sign Jesus Loves Me…
Congregational Council
The Congregational Council is elected each year at the Annual Meeting in January. Council Members serve as representatives to the Ministry Teams and serve as leaders in our congregation.
Ministry Teams
Ministry Teams coordinate the ministries of St. John's. Each team has a chairperson who convenes and chairs the meetings, and a council representative who serves as a liaison between council and team.
Communications Ministry Team
Congregational Life Ministry Team
Education Ministry Team
Building Improvement Team
Finance Ministry Team
Veterans Ministry Team
Property Ministry Team
Worship Ministry Team
Youth Ministry Team
Stewardship Ministry Team
Evangelism Ministry Team
Family Ministry Team
Care for Creation Team
Personnel Team


Congregational Life Teams
Advent by Candlelight
Birthday Greeting Callers
Care Callers
Church Chow & How
Prayer Chain


Property Teams
Garden and Landscape
Flower Bed Volunteers


Educational Teams
Confirmation
Scholarship Team
Sunday School
Relational Groups
Women of St. John's

Funeral Committee
Lutheran World Relief Quilters
Salad Luncheon

Women's Circles

Martha Circle
Pricilla Bible Study
Ruth Circle
Sarah Circle

Youth Ministry
High School Activities
Sugar Creek Bible Camp
The Leadership Directory is in the Member Area accessible at the bottom of this page.  To get the password, please ask a Council Member.
This Directory is strictly confidential and is only to be used for the Business Affairs of St. John's.
Private access is given only to our members.  If you are a member, and you need access to this information,
please ask a Council Member or an Executive Team Member for the password.
(The Full Leadership Directory with Team and Committee contact information is available at the Welcome Center)