Any of St. John's staff may be reached at the Office phone number 608-291-4311.  Please leave a message if you don't get an answer.

Pastor Ellen Stelzle – Pastor
Pastor Ellen was raised in Green Bay, WI, and comes most recently from Omaha, NE where she served in a congregation for 18 years. Before attending seminary she graduated from UW-Madison with a degree in Business Administration. Pastor Ellen is excited to develop small groups and other relational ministries, including groups designed to foster spiritual growth. Her husband, Michael, works as a safety and standards engineer for Claas.  They have 2 adult children and enjoy hiking, biking, playing piano and trombone, and desserts of all kinds.





Laura McGoveran – Coordinator for Congregational Life
Originally from the Eau Claire area, Laura grew up in Ardmore, Oklahoma, returning to Wisconsin in 1996. Laura resides in DeForest, Wisconsin, with her husband, Rydell. They have 4 grown children, Lisa, Joe, Julie, and Sarah, and 4 grandchildren. Laura loves spending time with family, quilting, reading, and gardening – there never seems to be enough time to do it all!

Ondra Williams – Director of Worship & Music
Ondra Williams, a native of Clinton, Wisconsin, is an accomplished pianist and vocal coach who has taught and performed throughout the midwest. Ms. Williams holds a Master of Music in Collaborative Piano from Bowling Green State University in Ohio and a Bachelor of Arts in Music from the University of Wisconsin – Eau Claire. She has played for venues such as Valleyfair! Amusement Park in Shakopee, Minnesota; Noble Fool Theatricals of Chicago, Illinois; One Voice Youth Choir of Glen Ellyn, Illinois; Bowling Green Children's Chorus of Ohio; and has served as an adjunct faculty member at the College of DuPage in Glen Ellyn, Illinois. In 2011 she served as the pianist in the stage orchestra onboard the Celebrity Summit cruise liner.
At age thirteen Ondra started accompanying the choir at her home church, Jefferson Prairie Lutheran in Poplar Grove, Illinois. She currently serves as the Director of Music and Worship at St. John's. Ondra enjoys visiting coffee shops, walking her dog, traveling, swimming, collecting foreign coins, bicycling, and playing board games and cards.
Rejoice in the Lord always, again I will say, rejoice.  – Philippians 4:4
Shirley Schiffner has been the Financial Director since 2011 after retiring from the Oregon School District. Some of her duties are paying bills, staff payroll, budgeting, and recording congregational offerings. Her pride and joy are her eight grandchildren. She enjoys reading, cross-stitching, cabin time, and watching/listening to Wisconsin sporting events.

David Klarich – Audio Visual Operator

Barb Daane – Office Assistant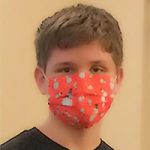 Gage Klarich –
Custodial